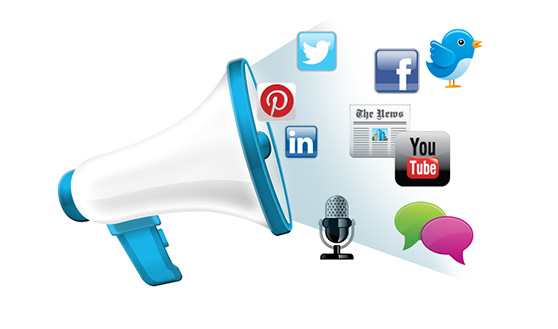 Social Media in 2016
Social media depend on mobile and web-based technologies to create highly interactive platforms through which individuals and communities share, co-create, discuss, and modify user-generated content.
Social media technologies take on many different forms including blogs, business networks, enterprise social networks, forums, micro blogs, photo sharing, products/services review, social bookmarking, social gaming, social networks, video sharing, and virtual worlds.
However, social media world is changing fast: You are either keeping up or quickly become irrelevant. Here are new social media platforms to inspire you:
Blab
This is a social media network for video chatters. If you tried Periscope and joined at least one Google Hangout on Air, let me put it simply for you: Blab is right in the middle between the two.
Join and set up group video interview, meet new people and connect to influencer sin real time!
Yik Yak
You have probably seen screenshots of Yik Yak all over the web lately. It is a platform that is all about local sharing on a social wave. You download the app, narrow your location via GPS, and communicate with anonymous people in your area.
It is still growing, so some cities are pretty dead. But larger urban areas have exploded in activity, and you can find plenty of conversations, or start your own.
Ello
Are you a creator who wants to connect, be inspired by, and be an inspiration to other creators? Then Ello is for you. Upload your content, edit it, share it. Then go and look at what others are creating.
This is a great social network that will give you one on one interaction with others that share your passion. So download the app and say 'Ello!'
Now, if you have problem getting used to new social media networks, First Site Guide has an excellent write-up called "How I Learned to Love Twitter!" that tells a story many of us are so well aware of: How we first join a social media community and feel helpless and lost and how to ultimately overcome that!
Social Media Dashboards
Cyfe
Cyfe is your only way to make sense of the buzzing social media world: Archive social media streams and search results, monitor social media statistics and set up reputation management dashboards. Cyfe has something for everything.
Plus, Cyfe supports an insane amount of social media networks you can track: Pinterest, Instagram, Twitter, Facebook, Facebook for Business, Google Plus, Youtube, Vine, you name it!
Social Media Mobile Apps
Social apps aren't all about Facebook and Twitter anymore, or chatting applications. Whole networks have been created that you may have never heard of, with specialized services you will love. These are some excellent newer ones that have gained a ton of traction this year, and are continuing to grow. You gotta check them out!
Kleek
Facebook's friend feed and its algorithm are an annoyance for most users at this point. Kleek integrates with the social network to give you more control. It works by connecting to your account and letting you create your "cliques".
Only the people you want will show on your mobile feed. It will also alert you to special events, such as birthdays or invites from those people. Super simple, but helpful. Think of it as making Facebook yours, without having to create secret groups and flick between feeds.
Storehouse
This is a really simple, basic app that will change how you view, collect, curate and share media forever. Take your chosen photos and videos and create a story that you can tell to anyone you choose.
Everyone knows that a lot of social interaction online these days is visual storytelling. This takes it to the next level, all from one small and easy to use application.
Shots
Yes, that is the real name of the app, smiley face and all. The concept is just as silly: this is an app that not only allows you to take selfies, it demands it.
You take the shot, you edit the shot, you share the shot. It is the best way for you and your friends to indulge in some harmless, fun vanity. Take photos or videos. Upload with descriptions and send to anyone you like.