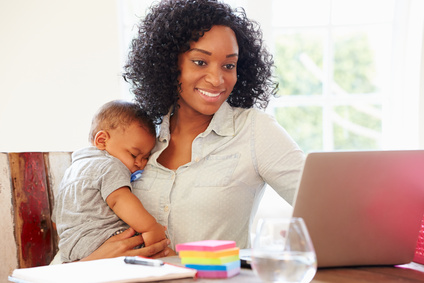 From a very early age I was taught the value of money. Not only did I do chores to earn a weekly allowance, but I was expected to save my money for things that I wanted to purchase. And like most kids — I wanted more than I really needed, which motivated me to come up with other ways to make money.
In college, I sold my old text books and CDs for cash. I sold old clothes to shops. I even sold my body to science, by participating in numerous pharmaceutical research studies—that's a joke. The point being … when you're short on cash there are TONS of ways to make extra money by selling things.
So if you need some extra pocket cash, here are different things you can sell from home.
Advice
Are you a math whiz or a tech guru? Do you know a foreign language? Then cash in on your knowledge on sites like Brain Mass or Create Pool. Simply browse the questions, give an answer, and get paid. Each site works differently, so visit each for specific details.
Art
Do you love to paint or draw? Then sell your art online at ArtPal, they accept paintings, prints, photography, sculptures, handmade jewelry, and crafts. No fee to join.
Baby Gear
Is your baby all grown up? Then sell your used baby furniture, gear, toys, and clothes to friends or relatives.
Belly
While this is a huge commitment and undertaking, it can be very lucrative if you're healthy, the right age, and you have the right mindset. Being a surrogate (carrying someone else's baby for 9 months) pays over $1,000, plus the cost of medical bills.
Big Ticket Items
Do you have furniture, designer clothing, major electronics, or appliances that you no longer need or want? Then sell them on online. Like a newspaper ad, but free, you'll list your item and it will be up to you to follow through with customers.
Breast Milk
Yes, you heard me correctly, breast milk! In fact, there is a whole website called, Only The Breast that is dedicated to moms selling and those looking to buy breast milk.
Books
Do you have old books laying around? Sell them online.

Clothing
Do you have outgrown children's clothing or styles that you no longer wear? Then sell your clothes. Prefer to sell new clothing? Here are 5 online boutiques that will let you set up shop for FREE!
Crafts
Do you make gorgeous jewelry or cozy knit scarves? Then sell your handmade goods, vintage items, or craft supplies online.
Electronics
Have old electronics laying around? Then sell your old smart phones, tablets, laptops, and computers.
Logos
Do you have graphic design skills? Then use your talents and sell logos on 99 designs. Simply find a contest, submit a design and if yours is chosen as the winner you make money.
Mini Services
Fiverr is a website where you post services that you're willing to do for $5.00. People sell everything from writing services, design services, voice over services, to making phone calls, posting social media updates, and videos. Once you make a sale, Fiverr will keep of fee of $1.00 and payments will be made via PayPal. Doesn't sound like much money? Connie Brentford is making good money on Fiverr – she even wrote an e-book about it, How I Made An Extra $1,200 Per Month At Home Using One Free Website.
Photos
Sell your photos to stock sites like Dreamstime.com. Simply upload your photos and sell your images. You'll receive 25% – 60% from each sale you make. Or use an iPhone app like Foap. Download the application to your smartphone and upload your photos. Once your image receives 5 positive ratings from other Foap users – your photo will be published for sale. You will earn $5 each time someone purchases your photo. Payments are made via PayPal when the user requests a cashout.
Recipes
Are you a great cook? Then sell your recipes to magazines, cooking contest websites, or article databases like Helium.com and About.com. Magazines will usually pay $25 – $500+ if they publish your recipe. Some sites to check out are Cooking Light ($50 and a free t-shirt) and Sunset.com ($250). With article databases they publish your recipe online and then place ads alongside your recipe. The more page views to your recipe, the greater revenue share you earn, and the more recipes you share, the more earnings you'll make.
Best of luck!